Enaro Energy (EE), Ikeja Electric and Ishokan Phase 1, Mercyland and Mercyland Phase 1 communities (all in the Ipaja- Ayobo LCDA) have entered into an agreement to bring 24 hours Electricity supply to the communities in Lagos through an Interconnected Mini-Grid Project.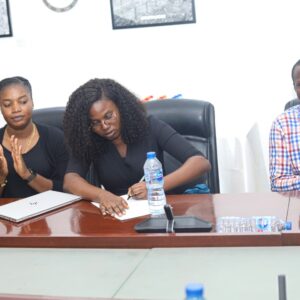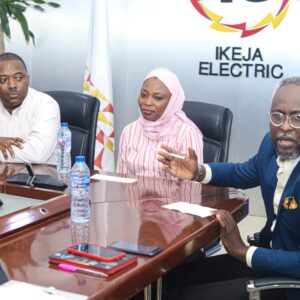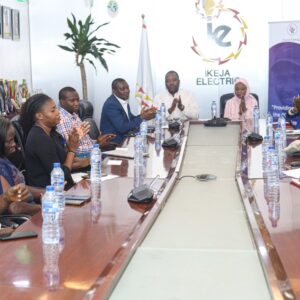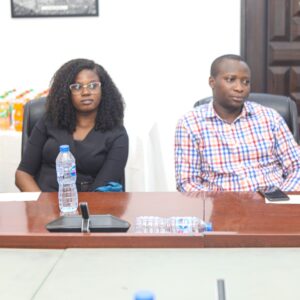 Ikeja, Lagos State, Nigeria- 3rd August, 2022
Today, Enaro Energy signed a Tripartite Agreement with Nigeria's largest utility company, Ikeja Electric, to bring 24 hours power supply to the Ishokan Phase 1,  Mercyland and Mercyland Phase 1 communities through the delivery of a 1MW Interconnected Min- Grid Project.
"This pioneering 1MW Interconnected Mini-Grid Project allows Enaro Energy to help deliver on Ikeja Electric's promise of 'Bringing Energy to Life' by providing over 1,000 residents and businesses of the host communities with free prepaid meters and with stable, 24 hours power supply. We will blend electricity supplies Ikeja Electric provides from their grid with local generation from our clean, EU Taxonomy aligned, Compressed Natural Gas (CNG) powered plant to the satisfaction of all our customers in the communities." – Oluwaseun Smith, MD, Enaro Energy
"The initiative is a landmark in the history of the power sector in Nigeria, as those communities will be the first to experience uninterrupted power supply in Nigeria via a blend of grid and off-grid generation and distribution of power." – Seqinah Adewunmi, Chief Finance Officer (CFO), Ikeja Electric (representing Chief Executive Officer, Folake Soetan, during the signing of the agreements)
"At Enaro Energy, our focus is on 'Providing Power to Energize Nigeria's Dreams' and our collaborative approach to achieving this by working closely with our regulator – NERC, government at all levels, Discos, our suppliers, our financiers, and communities across Nigeria, is a replicable and scalable model that can be used to energize the entire country. We look forward to delivering this project and then going on to work with stakeholders across the country to deliver more projects to the benefit of Nigerians." – Ayodele Banwo, Commercial Associate, Enaro Energy
"Despite initial doubts at the early stages of discussion for this project, we have been impressed by the level of commitment demonstrated by Ikeja Electric and Enaro Energy. We acknowledge and appreciate the collaboration between Ikeja Electric and Enaro Energy and we sincerely thank both of them for making our dream come true." – Baba Agba Lawrence, Representative of the Communities
The Ishokan Phase1, Mercyland and Mercyland Phase 1 communities in the Ayobo- Ipaja LCDA of Lagos State are peri-urban communities that require higher quality electricity supply service delivery as they play host to a growing number of small commercial entities. The Interconnected Mini Grid Project is a project which would help improve their competitiveness and their ability to attract small businesses to the communities.
Using a modular design, the CNG powered Mini Grid power plant will generate 1MW to power over 1,000 households, public facilities, and small businesses in the communities. With successful execution, Enaro Energy aims to facilitate similar partnerships that would improve service delivery for customers on the electricity grid across Nigeria.
About Enaro Energy: – Enaro Energy develops and operates mini-grid and other distributed generation projects in Nigeria, providing the power to energize the country's dreams. The company is a customer focused, distributed energy service provider that uses a variety of green energy sources (per EU Taxonomy) to provide competitively priced, predictable and reliable electrical power to small businesses and households across the country. In operation since 2018, the company places a premium on superior customer service in its operations and is very proud of the high technical quality and passion it brings to project delivery. More information on Enaro Energy can be found at www.enaroenergy.com and they can be followed on Twitter, Instagram and Facebook at @EnaroEnergy.
About Ikeja Electric:
Ikeja Electic Plc is Nigeria's largest power distribution network whose vision is to be the "provider of choice where ever energy is consumed". The company is focused on powering lives and businesses with innovation and unwavering drive for excellence and also provides the best quality service to their customers while adhering to the highest standards of safety at all times. The company currently serves over 1.2 million customers in Lagos and Ogun States to whom they are "Bringing Energy to Life".
Ikeja Electric continues to demonstrate its commitment and drive to delivering efficient and sustainable power through Partnerships, Investments in new technology and infrastructure, and Human capital development. More information on Ikeja Electric can be fond at www.ikejaelectric.com and they can be followed on Twitter and Instagram at @IkejaElectric and on Facebook at @myikejaelectric.